i-Sprint is a Winner in 2014 NWA Information Management Awards

i-Sprint is a Winner in 2014 NWA Information Management Awards
We are pleased to inform that i-Sprint has won the best in Identity & Authentication Management category in NetworkWorld Asia's Information Management Awards (IMA) 2014.
The NetworkWorld Asia IMA, inaugurated in 2012, recognizes Asia's leaders in Information Security, Storage and Data Management for the huge advances made in these fields over the last few years.
Editors of NetworkWorld Asia, Networks Asia, Security Asia and Storage Asia will shortlist 2-3 finalists in up to 30 awards categories. The list of finalists will then be put up for online voting. 100 regional CIOs and IT heads of end-user organizations will be invited to vote, and the finalist with the most votes in each category will emerge as the award winner.
Judging Criteria includes the reputation of vendor in the marketplace, features and unique selling points of the solution, widespread acceptance of technology and/or brand, users' feedback on the solution/deployment as well as the durability, scalability and quality of service as contributing factors.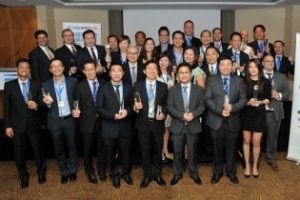 Read about the news on IMA Winners here.