The Future of Security in Financial Services Conference in Singapore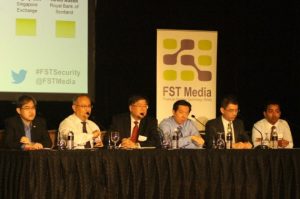 i-Sprint participated in "The Future of Security in Financial Services" Conference as a Panel Sponsor on 13th November 2013 at Marina Bay Sands in Singapore. Our Chief Technology Officer (CTO), Mr. Albert Ching, was represented at the Security Leaders panel alongside executives from OCBC Bank, CIMB Singapore, Singapore Exchange Limited, Royal Bank of Scotland, Ministry of Communication and Information.
Topics discussed by the panel include: Highlighting key security priorities for the year ahead; Adapting risk management practices to emerging cloud, mobile and social risks and key drivers for successfully building a culture of transparency and honesty. The inaugural event gathered a crowd of more than 150 banking and financial executives including CIOs, CTOs, EGMs and Divisional Heads.
From left to right: Alan Seow, Cyber-Security Practitioner, Head, Ministry of Communications and Information; Liew Min Chee, Head of Information Security, OCBC Bank ; Albert Ching, Chief Technology Officer, i-Sprint Innovations ; Solomon Tay, Head of Information Technology Department, CIMB Singapore; Gregory Sim, Head of Information Security, Singapore Exchange Limited; Kevin Austin, Head of Assurance, Corporate Security Services, Royal Bank of Scotland