i-Sprint's AccessMatrix™ Solutions honored as Silver and Bronze winners in the 9th Annual 2013 Security Industry's Global Excellence Awards in various Categories
The Security Industry's Coveted Excellence Award Winners and Finalists from all over the world were honored by Info Security Products Guide in San Francisco on February 27, 2013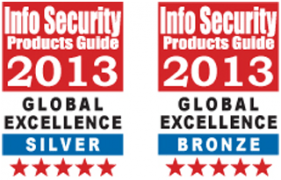 i-Sprint Innovations announced today that Info Security Products Guide, the industry's leading information security research and advisory guide, has named their suite of AccessMatrix™ Solutions winners of the 2013 Global Excellence Awards in the following Categories:
Access – Silver Winner
AccessMatrix™ Universal Access Management (UAM)
Security Products and Solutions for Enterprise (Large) – Bronze Winner
AccessMatrix™ Universal Credential Manager (UCM)
AccessMatrix™ Universal Sign-On (USO)
Authentication Solution (Multi, Single or Two-Factor) – Bronze Winner
AccessMatrix™ Universal Authentication Server (UAS)
The security industry celebrated its 9th Annual 2013 Global Excellence Awards in San Francisco by honoring excellence in every facet of the industry including products, people behind the successes and best companies.
More than 50 judges from a broad spectrum of industry voices from around the world participated and their average scores determined the 2013 Global Excellence Awards Finalists and Winners. Winners were announced during the awards dinner and presentation on February 27, 2013 in San Francisco attended by the finalists, judges and industry peers.
For more information about AccessMatrix™ suite of solutions – please click here.
"Info Security Products Guide's recognition of AccessMatrix™ further validates our product as excellence-in-class and ahead of the curve…."i-Sprint will continue to deliver our proven secure authentication for convenient access across multiple channels, and our bank grade (over 45 Banks and Financial Institutions) Versatile Authentication Platform for multiple application delivery platforms globally" said Mr. Albert Ching, CEO of i-Sprint. "This industry honor is the greatest endorsement to the fact that AccessMatrix™ is ahead of the curve when it comes to the best-of-the-best products that can provide the highest security in Access Management, Single Sign-On, Authentication Solution (Multi, Single or Two-factor) for the Enterprise."
About Info Security Products Guide
Info Security Products Guide sponsors leading conferences and expos worldwide and plays a vital role in keeping end-users informed of the choices they can make when it comes to protecting their digital resources. It is written expressly for those who are adamant on staying informed of security threats and the preventive measure they can take. You will discover a wealth of information in this guide including tomorrow's technology today, best deployment scenarios, people and technologies shaping info security and market research that facilitate in making the most pertinent security decisions. The Info Security Products Guide Awards recognize and honor excellence in all areas of information security. To learn more, visit www.infosecurityproductsguide.com and stay secured.
About i-Sprint Innovations
i-Sprint Innovations is the premier Credential and Access Management Solutions provider for global financial institutions and high security sensitive environments. i-Sprint Innovations has designed and developed a suite of Credential Management and Versatile Authentication solutions that addresses the access and authentication challenges faced by organizations.
i-Sprint Innovations maintain the highest value and reliability rankings among its clients, and is one of the most recognized names in the financial world. From year 2011, i-Sprint Innovations is a wholly-owned subsidiary of Automated Systems Holdings Limited which is listed in Hong Kong Stock Exchange.