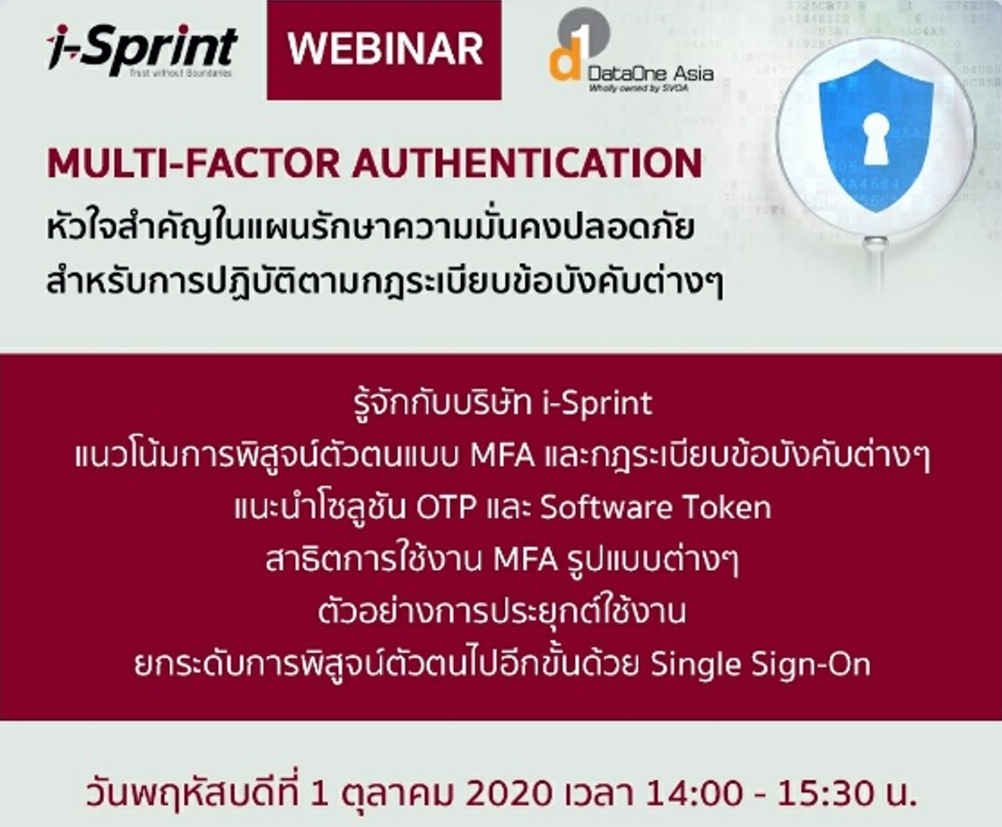 Multi-Factor Authentication: A Critical Layer in Your Security Plan for Compliant
"Authentication is created to ensure you are who you are. Over the years, business needs are changing according to the evolvement of technology. Simple login using just username and password is not as secure as before. Companies need to enhance the security level to protect their digital assets and users. In this webinar, i-Sprint will share with you about:
Trends and regulations
Why multi-factor authentication (MFA)?
How do you use MFA?
Join us on Thursday, 1 October 2020 at 14:00 – 15:00 and hear from our presenters from i-Sprint Innovations as they share with you on trends and MFA.
การยืนยันตัวตนแบบหลายปัจจัย:หัวใจสำคัญในแผนรักษาความปลอดภัยสำหรับการปฎิบัติตามหลักเกณฑ์และข้อกำหนดต่างๆ
"การยืนยันตัวตนถูกสร้างขึ้นเพื่อให้แน่ใจว่าคุณเป็นตัวคุณเองจริงๆ
ในช่วงหลายปีที่ผ่านมาความต้องการทางธุรกิจเปลี่ยนแปลงไปตามการพัฒนาของเทคโนโลยี การเข้าสู่ระบบแบบเดิมๆ โดยใช้แค่ชื่อผู้ใช้และรหัสผ่านนั้น
ไม่ปลอดภัยเหมือนเมื่อก่อนอีกต่อไป บริษัทต่างๆ จำเป็นต้องเพิ่มระดับความปลอดภัยเพื่อป้องกันทรัพย์สินทางดิจิทัลและผู้ใช้งาน ในการสัมมนาผ่านเว็บนี้ i-Sprint จะแบ่งปันกับคุณในหัวข้อดังต่อไปนี้:
แนวโน้มและข้อควรปฏิบัติ
ทำไมถึงต้องใช้การยืนยันตัวตนแบบหลายปัจจัย?
วิธีการใช้การยืนยันตัวตนแบบหลายปัจจัยในรูปแบบต่างๆ
เข้าร่วมกับเราในวันพฤหัสที่ 1 ตุลาคม 2020 เวลา 14:00 – 15:00 น. และรับฟังความคิดเห็นจากวิทยากรของ i-Sprint Innovations พวกเราจะแบ่งปันเกี่ยวกับแนวโน้มและการยืนยันตัวตนแบบหลายปัจจัย