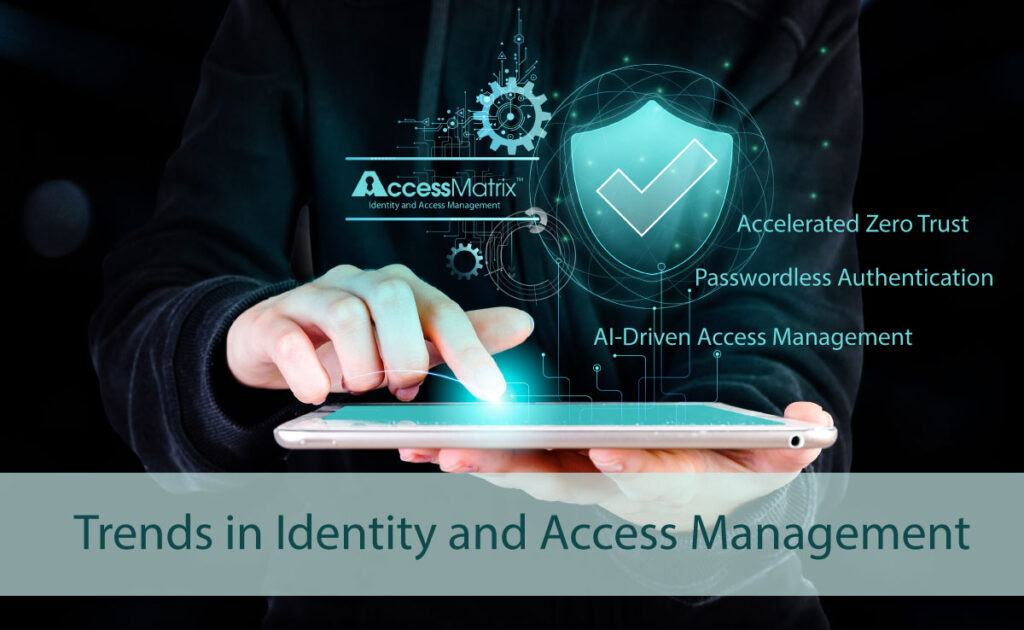 Identity and access management (IAM) is the foundation of secure digital transformation. By managing user identities and their access permissions to different resources, organizations gain transparency, trust, and control over their digital journeys. But with digital transformation initiatives dissolving the traditional network perimeter due to cloud adoption, distributed apps, and hybrid workforces, IAM cannot remain static if it's to continue to serve its critical function.
This article provides an overview of some important trends in IAM and its future direction. You'll learn how IAM can change to facilitate the vision your organization has for a secure, trustworthy and increasingly digital future.
Key Trends in Identity and Access Management
IAM helps to securely manage complex relationships between users, devices, and various business resources. Tools, policies, and processes combine to make up an IAM strategy, but this strategy must evolve in line with the prevailing threat landscape alongside both technological and cultural changes. Here's what to expect in IAM over the coming years.
Accelerated Zero Trust
With the boundary between internal and external networks dissolving more rapidly each year, the need for zero trust strategies is clear. By removing any implicit trust in providing user or device access, zero trust opts for an "always verify" approach to access provisioning.
Zero trust is a strategy and a philosophy rather than just a tool you adopt. In embarking on a zero trust journey, strong identity and access management plays a pivotal role. Gartner predicts that 60 percent of organizations will embrace zero trust as a starting point for security by 2025. The Singapore government has formulated its own zero trust strategy for IT infrastructure.
To accelerate zero trust adoption, organizations must refine and create a more robust IAM policy. This policy must encompass rotation for apps and services in addition to users so that certificates and API tokens are protected. Least privileged access is also critical in minimizing the level of access to what's strictly ended for a user, device, or micro-service to carry out its function. Standards-based identity verification increases confidence that users are who they claim to be.
Passwordless Authentication
There's no getting around the fact that passwords continue to pose a risk to companies and their data. There are 24 billion stolen username-password combinations available on the dark web that threat actors can use to try and compromise user accounts. Along with advancements in social engineering techniques like phishing, it's clear to see why stolen credentials still contribute so significantly to successful cyber-attacks.
Organizations that have adopted multifactor authentication (MFA) solutions are much better protected against the risks that stem from relying on passwords alone as an identity attribute for authentication. However, there's a strong push toward removing passwords completely from the IAM picture. Passwordless authentication is any method for verifying a user's identity without relying on a password.
Going passwordless doesn't automatically improve security on its own. When combined with MFA, though, passwordless carries great promise in hardening user accounts against compromise. An MFA implementation of passwordless authentication will typically require users to provide evidence of something they have – e.g. smartphone, OTP token along with something that is unique to them – e.g. fingerprint, biometrics. This type of MFA is even more secure than relying on a password.
AI-Driven Access Management
Artificial intelligence (AI) technologies continue to improve at a rapid pace with better machine learning models and cheaper computing driving all sorts of innovations. A trend worth keeping an eye on is how AI will increasingly be integrated into IAM workflows and technologies.
Effective access management must account for a range of contextual factors to determine what constitutes normal levels of user/device activity versus activities that indicate nefarious behaviour. Machine learning models that progressively improve over time are ideal for creating risk profiles about user and machine identities. These models can use a wide range of available data about the device, identity, and activity to detect anomalies and help securely manage access throughout a session, rather than just at the point of authentication.
AI has further scope to improve IAM by helping organizations scale their visibility over accounts and identities in today's complex IT ecosystems. With cloud-based resources and remote access, consistently enforcing IAM policies for users, customers, clients, and partners is daunting for IT teams. AI brings visibility into the equation through integration across disparate systems.
IAM solutions evolve, Keeping with time
IAM is central to enforcing access controls to an organisation's data and information, while at the same time supporting regulatory compliance, governance, privacy, workforce lifecycle management, efficiencies, and last but not least customer experience. A robust IAM solutions also offer access to the latest in data and analytics capabilities and Artificial Intelligence (AI), helping them to shift from reactive to proactive risk management, and gain enhanced efficiencies through informed decision making.
IAM tools also help drive an always-on approach to IAM, moving forward from a reliance on passwords to incorporating different forms of authentication together at once, and seamlessly, for the greatest protection
As specialists in identity and access management, i-Sprint offers a range of solutions that equip you with the tools you need to keep your data and information secure as well as the understanding and knowledge to keep you up to date with the latest trends in IAM.
Talk to a specialist today to learn more.