i-Sprint's Identity and Access Management Solution Received Gold and Silver Awards at 2016 Security Industry's Global Excellence Award in San Francisco
Total achievements – 1 Gold, 1 Silver and 3 Bronze Awards
Singapore, 8 March 2016 – i-Sprint Innovations, a leader in Identity, Credential and Access Management Solutions has won 1 Gold, 1 Silver and 3 Bronzes at the 12th Annual 2016 Security Industry's Global Excellence Award held in San Francisco on 29 February 2016.
Security Industry's Global Excellence Awards is an Award by Info Security Products Guide, the industry's leading information security research and advisory guide, to recognize and honor excellence in every facet of information security industry, including products, people behind the successes and best companies. More than 50 judges from a broad spectrum of industry voices from around the world participated and their average scores determined the 2016 Global Excellence Awards Finalists and Winners.
One of the company's key products, AccessMatrix™ Universal Authentication Server (UAS), a future-proof authentication infrastructure that is able to support multiple authentication mechanisms for strong authentication and authorization requirements, has won Gold Award under Access Category and Silver Award under Security Products and Solutions for Enterprise (Large) Category. i-Sprint's latest product, AccessReal – The Power of Product Identity, the only identity management solution for product in 2016 Security Industry's Global Excellence Award has also won a bronze award under Identity Management category.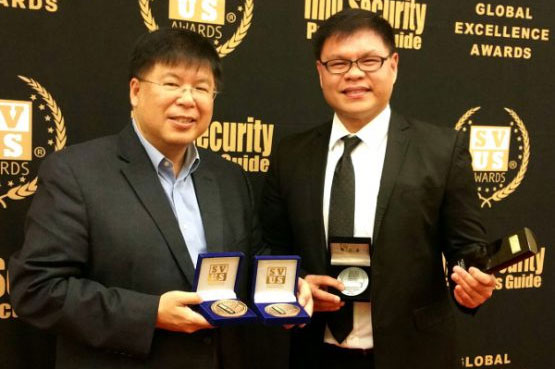 Albert Ching, CTO (Left) and Dutch Ng, CEO (right) attended the award ceremony on 29 February 2016 in San Francisco
Click here to view more information