i-Sprint Innovations announced partnership with DataOne Asia (Thailand) to capture Thailand security market, supporting Thailand 4.0 policy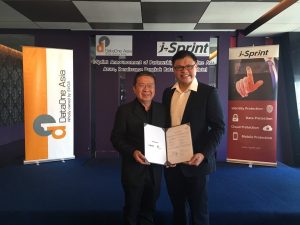 Singapore, 03 March 2017 – i-Sprint Innovations and DataOne Asia (Thailand) announced its partnership to offer the Digital Identity solutions to support all business sectors in Thailand. The move aimed to capture the growth of IT investment in the country as a result of the advent of Thailand 4.0 policy and the Digital Transformation.
Adisorn Kaewbucha, Chief Executive Officer, DataOne Asia (Thailand) said DataOne Asia is pleased to become a partner of i-Sprint Innovations, the premier Identity, Credential and Access Management Solutions provider. Together, we will penetrate more into the security and digital identity market of Thailand and to cover targeted customers in financial service institutions, telecommunications, education, government agencies, private sector, healthcare and all other manufacturing industries.
Currently, companies are placing great importance on the online service development, which signified the rising demands for security and digital authentication. With the promotion of Digital Transformation and the Thailand 4.0 by government, more enterprise and manufacturing industries would improve their business operating process through adopting more technologies. Moving into a smart enterprises/ industries also mean the rising need of stronger security systems, especially the digital identity system, to secure access to sensitive data within organizations.
Poonsuk Wattanayingjaroenchai, Executive Director, DataOne Asia (Thailand), said in order to provide IT Solutions and consulting service for the comprehensive authentication solutions, DataOne Asia, as the system integrator that offers networking devices and securitysystem, is ready to provide the solutions through more than 100 partners nationwide. The company has a team of specialists to provide consultant service as well as to design, install, provide training and maintenance services around the clock. With over 20 years of experience, DataOne Asia has been trusted by organizations in all sectors. The company has a team of high-skilled experts and system engineers, plus international standard computer network security specialists to provide support and service to end customers in areas of financial service institutions, telecommunications, manufacturing, healthcare, government agencies, and private companies at all sizes, including educational institutes.
Dutch Ng, Chief Executive Officer, i-Sprint Innovations said Thailand is one of the key focused markets for i-Sprint. With the company's strength in banking sectors, 80% of commercial banks in Thailand are using i-Sprint's the digital identity authentication. Since the company aims to expand the business to cover all business sectors and also industries, the company needs to have a strong partner who possess strong capabilities to best reach target customers within the country.
"We are confident in the strength and capabilities of DataOne Asia. The company has not only been in the IT business for more than 20 years but has also established a large business network that i-Sprint can tap on to expand our market share. For us, DataOne Asia is the right partner to achieve our goal of conquering the targeted customers in financial service institutions, telecommunications, manufacturing, healthcare, private sector, educational institutions in Thailand. We believe that our knowledge transfer in authentication management solutions to DataOne will enable the team to offer the best consultant and supports to end customers," said Dutch Ng.
The business expansion plan in Thailand is set to be in line with the announced Thailand 4.0 policy that has been launched to develop a value-based economy in order to support SMEs to become smart enterprises, and traditional services to high-value services. The aim is to create creativity and innovation through the application of technology. According to IDC, the digital transformation will have a big influence on IT spending in Thailand. In 2016, the IT spending in Thailand was around Bt400 billion and expected to increase to Bt500 billion by 2020. Banking, healthcare, and manufacturing will be the main sectors driving higher IT spending as businesses will try to utilize IT and innovation to support consumer behavior and adopt their legacy system into digital transformation to improve user's experience.
"Importantly, the advent of Thailand 4.0 will spur the needs for the strong security to reduce problems on the access control to the internal system and also confidential data. This is also to prevent any risks happening from a compromise of a system. With our strong experience in offering versatile authentication products and solutions for more than 16 years, we have customers covering financial institution at both regional and global level, including government agencies, telecommunications, utilities, manufacturing industries, healthcare, education, international enterprises and more," said Dutch Ng.
i-Sprint design, build and own the IP of the products with R&D centers located in Singapore and China (Beijing and Zhuhai). With over 200 staff and more than 120 Engineers and developers in Asia, i-Sprint is agile in developing innovative products and tailoring the solutions to best meet enterprises' needs.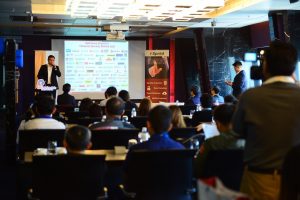 About DataOne
Information of Company
DataOne Asia (Thailand) Co., Ltd., is the leader in IT solution and the comprehensive service and the provider of the networking, the security system, the leading high-quality computer networks, including the security consulting. The company provides security services include Web Application / Vulnerability Assessment / Penetration Testing, Source Code Analysis, to the leading organizations and companies, covering educational institutions, government agencies, government-owned agencies, finance and banking, insurance, and all private companies. With more than 20 years of experience, DataOne has been trusted by all organizations as it has team of skilled engineers and international standard computer network security specialists.