AnXunBen Won 2014 China Information Security Field Best Solution Award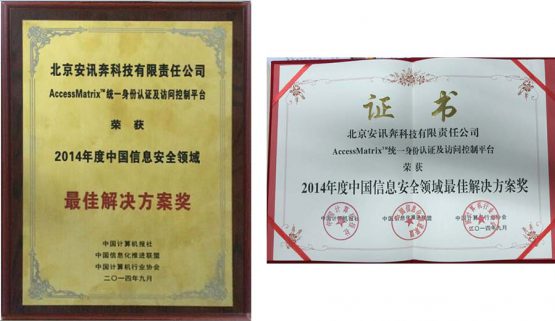 Recently, China Computer Newspaper, China Federation of Promotion and China Computer Industry Association co-organized the award of China Industry Informatization. The award had attracted more than 8,000 enterprises from all over China to apply. After the preliminary screening, there left about 800 candidates. In early September, through industry users and readers' votes and the industry expert's opinions, only 49 enterprises finally won the Best Solution Award.
On September 19, 2014, China Industry Information Awards Ceremony was held in Beijing. More than 600 representatives from government leaders, IT enterprises managers and industry experts had participated. In the ceremony, it proclaimed that AnXunBen won the 2014 China Information Security Industry Award and AccessMatrix™ universal identity authentication and access control platform was the best solution.
It is recognized and encouraging for us to win this award. We will continue to provide more secure and reliable solutions to customers.